As part of the Unified Community Platform project, your wiki will be migrated to the new platform in the next few weeks. Read more here.
Free Falling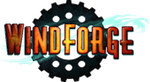 Free Falling is an achievement in Windforge.
Fall through a whole area.
Start above the middle third, and jump. Try not to hit anything on the way down and go splat.