As part of the Unified Community Platform project, your wiki will be migrated to the new platform in the next few weeks. Read more here.
Aetherkin Archaeologist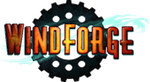 Aetherkin Archaeologist is an achievement in Windforge.
Get all the ancient Aetherkin tablets.
Make sure to bring a gas mask for the lower third of the map, and build a sturdy ship to survive the meteors in the top third.